How To Close Your Gates with Magnets
/
March 11th, 2022
/
There are currently 0 comments
Looking for a quick and easy solution to keep your gates securely shut? Then Countersunk magnets are the ideal solution for keeping gates, doors or even cupboards closed securely.
Countersunk magnets are perfect for this application due to the countersunk central hole, allowing them to be fixed to non-magnetic surfaces with a screw and in this case a wooden gate.
The 25mm x 5mm thick x 6mm countersunk circular magnets we recommend provide an astonishing 11.2kg pull for a small magnet, for this application to work you'll require one North and one South magnet.
Having selected the magnets, you begin by simply recessing a hole into the gate before screwing in your first countersunk magnet, this can be either the north or south. Repeat this process and recesses a hole and then screw in the remaining countersunk magnets on the fence post.
Drilling the initial holes ensure the magnets sit flush on both the gate and the fence. This process allows the gate to be pushed close with ease and sees the north magnet attract to the south providing a secure hold and a clean aesthetic.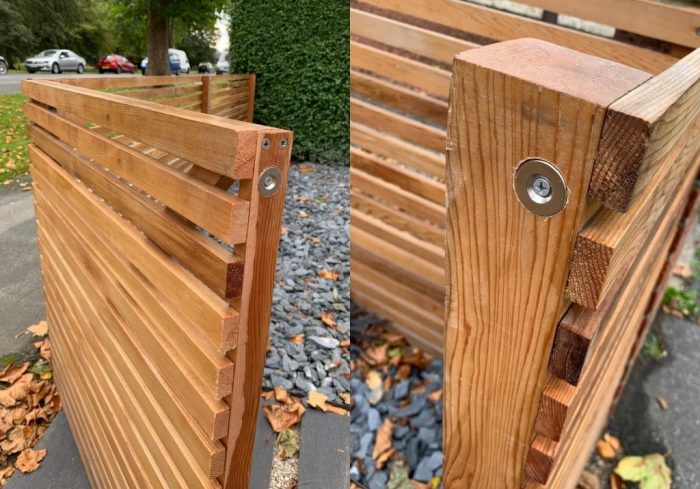 This quick and simple solution is a great hack for anyone looking to fix up or spruce up their garden gate. However, with this being an outdoor application our experts recommend painting the magnets with a protective layer of varnish or corrosion resistant iron paint, such as Hammerite.
Another possibility is using our rubber coated countersunk magnets.
We supply a wide range of magnetic fixing options to suit any form of DIY home projects. If you require any further information or have a query regarding your own home projects, feel free to contact one of our Experts today on 0845 519 4701 or email at sales@magnetexpert.com.