Our best magnetic products to be used in construction
/
April 28th, 2021
/
There are currently 0 comments
During our construction week here at FIRST4MAGNETS we've decide to show you how some of our magnetic products can make your life easier when it comes to working on site.
We have a range of products which can help in a variety of ways from helping follow health and safety guidelines to cleaning up your workspace and even just little gadgets to make life easier.
Take a look below and find out what product will best help you day to day.
Magnetic Sweepers
Our range of magnetic sweepers require no external power and provide the ideal solution for collecting loose ferrous items in your workspace.
Stray ferrous items such as nails, screws and loose debris can cause havoc to tyres and even injury to people or livestock and often go undetected or uncollected meaning an accident is left waiting to happen.
Therefore, our magnetic sweepers provide the perfect solution. The magnetic roller turns as the sweeper is moved collecting all ferrous items and disposes them in the removable tray, which can be simply removed and emptied.
At FIRST4MAGNETS we have a wide variety of Ferrite and Neodymium magnetic sweepers including suspended, combi and handheld.
Find the exact sweeper which can bring ease and efficiency to your life below.

Magnetic Hazard Tape
Our MagFlex® magnetic warning tapes provide an ideal solution for identifying permanent or temporary hazards within your workplace.
Whether you work on a construction site, in a warehouse, or a factory our MagFlex® magnetic warning tape can be used to clearly warn of potential hazards and ensure the workplace/ site is as safe as possible. The tape is available in either yellow and black or red and white.
The tape itself is magnetic on one side and with its striped north-south magnetic field, it will securely grip against any steel surface and can easily be cut to any size and re-adjusted. What's more, it is extremely durable and can be moved and re-used easily.
.
.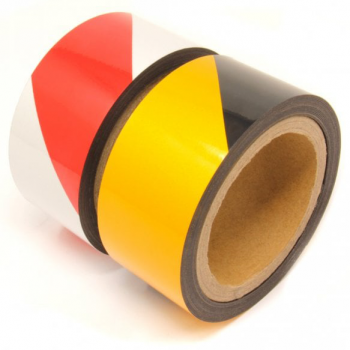 Magnetic Torch
Misplaced or dropped screws , nails, nuts and bolts are a common occurrence with construction, warehouse and factory environments. When these are dropped or misplaced in hard-to-reach places, they can often be difficult to retrieve.
Our range of magnetic torches are available in 4 different colours and come with an extendable, flexible LED light and they are the perfect retrieval tool and solution for almost any hard-to-reach place.
The torches are lightweight and easily portable with a durable clip and can extend up to 22". What's more, the small neodymium magnet can lift up to 2.26kg and the powerful LED light can illuminate the darkest area.
This torch is not only a must have in every toolbox it would also be a great present for the handy person in your life.

Magnet Expert Magnetic Wristband
Our Magnet Expert Magnetic Wristband provides you with an extra pair of hands by holding a variety of objects such as nails, screws, and even handheld tools.
The one size fits all lightweight design allows the wristband to be worn throughout your working day and really is the perfect accessory for any DIY enthusiast or tradesman.

Magnetic Gloves
Here at FIRST4MAGNETS we stock a range of magnetic gloves suitable for a variety of jobs and different elements of construction but still with the magnetic benefits.
Our range includes cut resistance, touchscreen friendly, fingerless and PU coated. Each pair of gloves includes a pad on the back of your hand to easily store metal parts and fasteners.
These gloves not only protect your hands throughout your working day but provide extra convenient storage for when you are working in those awkward conditions.