British Science Week 2017!
/
March 10th, 2017
/
There are currently 0 comments
Find out about British Science Week and how you can get involved!
Science is in the air as British Science Week 2017 gets underway! From the 10th – 19th March, a ten-day celebration of science, technology, engineering and maths begins with schools, science enthusiasts and professionals getting involved in a range of events across the UK! Here is everything you need to know…
The theme of this year's Science Week is "Change" and BSW are encouraging young people to consider the ever changing world we live in; from seasons and climate to materials and energy. In keeping with the theme, BSW have partnered with Zooniversal on the visual project, Penguin Watch. We commend this! The scheme requires me, you, our friends, family and dog (OK maybe not the dog) to get involved by annotating our own images from the past three years of penguins in their habitats. The aim is to collect quantitative data from photographs which will go towards furthering our understanding of the species and contributing towards their conservation! So, if you have been on a winter safari, to the South Pole or anywhere else with penguins, grab your photo album and start annotating! Let's help Zooniversal and our fellow science professionals with such a great cause this Science Week.
"But I don't have any images of penguins; how else can I get involved?" Good question! There are lots of ways for you to get involved with Science Week. Just pop on your lab goggles and take look:
Head over to the British Science Week website for more information on what promises to be a fantastic and inspiring week!
At FIRST4MAGNETS, our experts are excited and can't wait to get involved! Look out for a Facebook video on how to make Science Week fridge magnets, lots of fun social posts and an online competition! Glue your eyes (not literally we might add) to our social channels this Science Week!
Here is what you'll need to make BSW17 fridge magnets with us…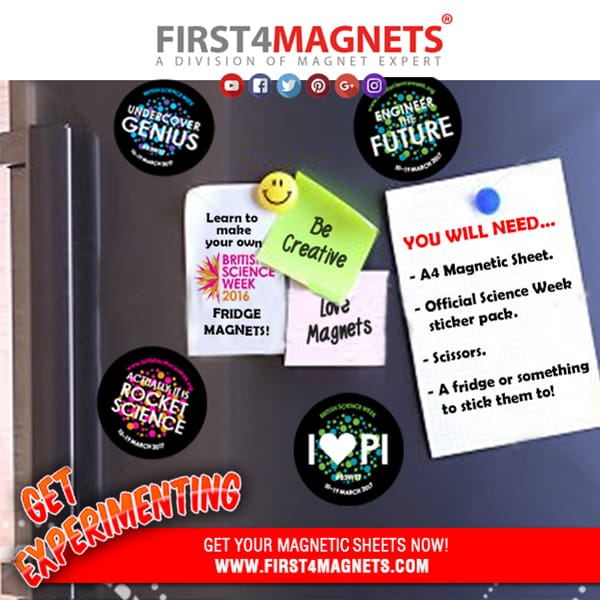 Find…
From all of us at FIRST4MAGNETS, thanks for reading! Now go and enjoy Science Week. Make sure you experiment safely and learn plenty!
Let's get social…