Magnet Expert Supports Refugee Council
/
September 20th, 2017
/
There are currently 0 comments
Magnet Expert Ltd are delighted to be supporting the Refugee Council in their efforts to educate children, who are seeking asylum in the UK.
Over recent week, children of all ages have been attending the Refugee Council's educational sessions, where they develop Maths and English skills through animation. Our magnets from First4Magnets.com, have been used within the sessions to help with the building and illustration of the animations. They have used our Fruity Skittle Magnets, Flexible A4 Magnetic Sheets and Magnetic Gridding Tape, as you can see below.
The work of the Refugee Council is remarkable and we are proud to be supporting them. Simon Elliott, our Head of Sales & Marketing who managed the donation, expressed:
"It is great to be able to support such a worthwhile cause. As a company, we are humbled to give something back to the community, the Refugee Council is a fantastic and well deserving charity who support children who are seeking asylum in the UK."
Sarah Dexter, a volunteer at the charity based in Croydon, London, said on her own personal blog: "Before the workshop, most of them had little computer experience, one student was at a beginner level of English, and of course none of them had animation experience. In just two weeks, they learned how to build models with wire and modeling compound, create backgrounds and props, and animate on the computer."
Here are a few images from the sessions and the finished product. Great work on the animation video, kids.
A big thanks to the Council who took the time to tweet us: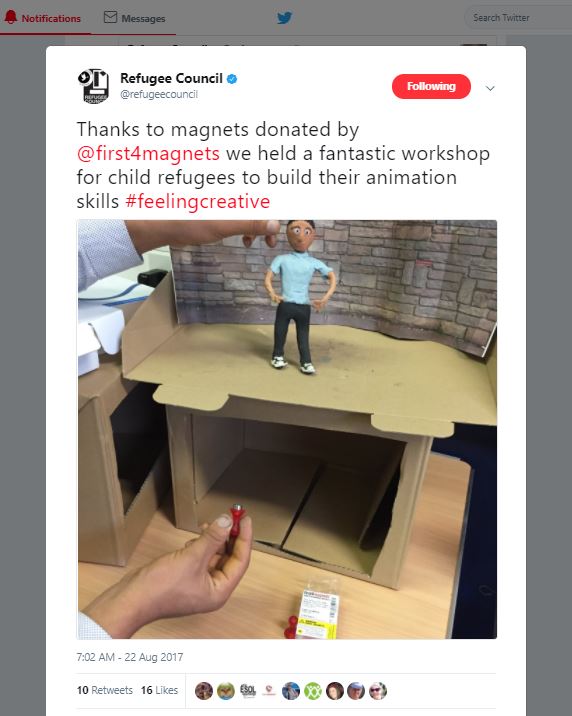 If you have a cause you think we should hear about, please contact the marketing team on marketing@magnetexpert.com or call 0845 519 4701. They would love to hear from you. Additionally, visit the Refugee Council's website to learn more about the charity and how you can get involved. Today, we can all work towards safeguarding and improving the lives of separated children seeking asylum in the UK.
In the meantime, drop us a tweet…
The video, Refugee Council logo and images of the sessions are property of the Refugee Council. Images have been edited for this blog post but we claim no ownership.