EXPERT MAGNET OF THE MONTH – FERRITE SWEEPER
/
September 22nd, 2020
/
There are currently 0 comments

This month's expert magnet of the month is our Ferrite Sweeper and with a staggering 40% off for a limited time is certainly something to shout about! If you are looking for a lightweight and durable method for sweeping loose ferrous loads, our 22" Ferrite magnetic sweeper provides a great solution! The adjustable handle allows for use in a variety of environments, and the easy to operate switchable release allows for simple disposal of ferrous loads.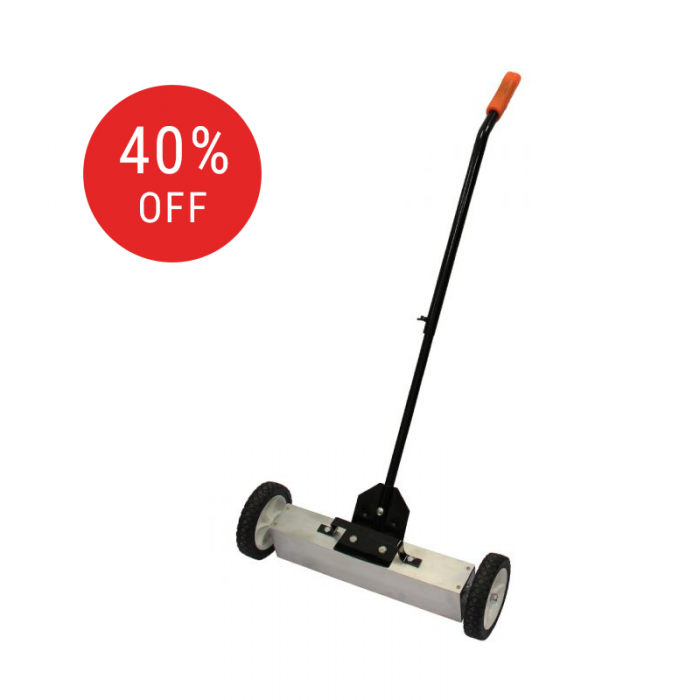 Product Specification
Ferrite Magnetic Sweeper With Switchable Release
22 inch Ferrite magnetic face.
Chunky solid rubber tyres.
Adjustable handle.
Switchable release.
No external power required to operate

40% off for a limited time only!
Expert thought: Our Ferrite Sweeper requires zero maintenance and are corrosion resistant, meaning it maintains its performance when used over small bodies of water or in harsh environments, making them perfect for industrial sites.
Where are they used?
Magnetic sweepers are perfect for garages, construction sites, warehouses, industrial sites and more!

What are they used for?
Stray ferrous items like nails, screws, metal shards and building debris can cause havoc with packaging, tyres and cause injury to livestock; often these items go undetected waiting for an accident to happen. They provide a durable and effective method of sweeping on floors of any size to attract loose ferrous items. This avoids injury, stress, time and cost of replacing items due to damage, saving thousands of pounds!
How do they work?
Use the handle to roll the sweeper around your work floor. The operation and disposal of ferrous loads is simple with the quick release handle – simply pull the handle up and the attracted ferrous load will release.