Magnet Expert Support D.I.Y SOS Build
/
January 5th, 2018
/
There are currently 0 comments
Magnet Expert Ltd are delighted to have supported the BBC's D.I.Y SOS on one of their recent projects in West Sussex.
In early May 2017, D.I.Y SOS contacted the Magnet Expert team in regards to a home renovation they were working on. Upon hearing about the project, it's safe to say we couldn't wait to get involved. The home belonged to Amanda and her family, which was in desperate need of change following a tragic accident for Amanda.
Here's Amanda's Story…
Almost 2 years ago, Amanda, a mother of 4, was out on her pushbike training for an iron-man event when her brakes failed her. Travelling downhill at 40 mph, Amanda lost control and crashed into a signpost, breaking 11 bones, puncturing a lung and snapping her collarbone and back. This shocking accident left Amanda paralyzed, but by no means defeated. On the night of the incident, Amanda posted a selfie to social media with a beaming smile and gained publicity with the Daily Mail. People were inspired by Amanda's positivity, despite her life changing injuries, and she is now training towards becoming a para-athlete.
Now wheelchair bound, Amanda found that her home was unsuitable for her needs and was in desperate need for wheelchair access, a wet room and stair lift. Bring in Nick Knowles and the team, who began renovating Amanda's home on Tuesday 9th May with the big reveal on Thursday 18th. Time was of the essence.
Amanda's social post , covered by the Daily Mail: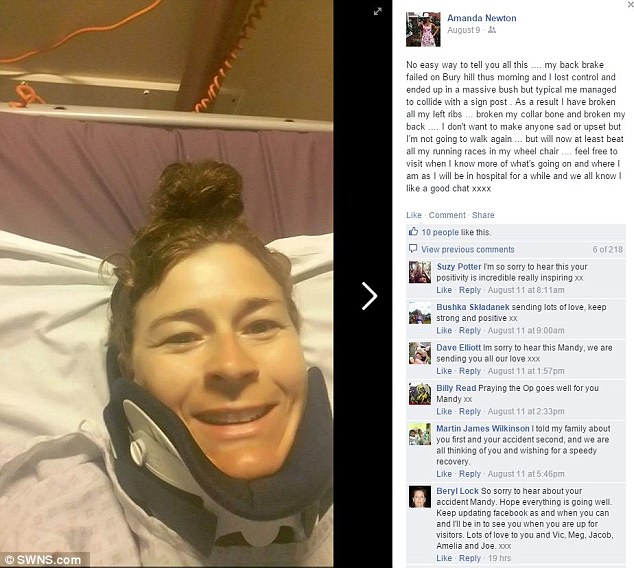 Image Credit: Daily Mail
So, how did we help?
Gordon, of the BBC, contacted us regarding our British Gypsum Magnetic Plaster. He was working on one of the children's bedrooms, which was the smallest room in the house, and wanted to maximise the room's potential. By making the walls magnetic, the team could hang items on the walls, items that make a child's bedroom their own. As a company, we're eager to help within the community, having donated to Red Nose Day earlier that year. Therefore, our Warehouse Team picked and packed our magnetic plaster, as well as some novelty magnets and a magnetic chalkboard, and delivered them to Gordon and the team the next day.
Check out the magnetic wall below! It's great for hanging artwork and your favourite magazine cut-outs.
Image credit: BBC
Simon Elliott, the Head of Sales and Marketing at FIRST4MAGNETS, spoke of the donation and the project:
"The work of the D.I.Y SOS team is inspirational. They are able to change people's lives by transforming their homes, often at times when they couldn't imagine hosting a similar project on their own accord. When Gordon contacted us about Amanda's story, we felt a real need to help where we could. We hope that our donations, combined with everyone's hard work, goes along way to bringing Amanda and her family joy in their home."
Image credit: BBC
The highly anticipated reveal of Amanda's renovated home was aired on Thursday January 4th on BBC One, and is now available on demand on the iPlayer. Keep your eye out for our magnetic plaster and the various other bits in one of the children's bedrooms. But most of all, enjoy the show, our box of tissues are at the ready, it's impossible not to cry during the big reveal!
If you have something you think we should hear about, please contact our Marketing Team on marketing@magnetexpert.com or call 0845 519 4701. They would love to hear from you.
In the meantime, drop us a tweet…
*The images within this blog post – that are credited to the BBC and Daily Mail – are not owned by Magnet Expert and are used for illustration purposes only. We have followed all policy requirements of the BBC and claim no ownership of the story or images.