Our best Magnetic Gifts for Father's Day
/
June 11th, 2021
/
There are currently 0 comments

Father's Day is just around the corner and we here at FIRST4MAGNETS want to help you to find the perfect gift for the father figure in your life.
Make a change from the regular gifts this year and pick an extraordinary gift from our range of magnetic products!
Even if your father figure isn't a magnet enthusiast, we are sure to have the ideal gift for them, before you browse our range of gifts just ask yourself a few questions about your father:
Does my father do DIY?
Does my father enjoy sport?
Does my father enjoy a beer?
Does my father work in or have an office space?
Does my father love his garage/shed?
If you have answered yes to any of the questions above, then we are sure to have the right gift for them this Father's Day. Just be sure to keep on reading!
Magnet Fishing Kit
With lockdown restrictions being eased, many people will be looking to get out and take up new hobbies and see new places – if you think your father could use a new pastime then our magnet fishing kit could be the perfect gift this Father's Day.
Magnet fishing is continuously growing in popularity and our kit is perfect for beginners who are looking to start magnet fishing. Our durable watertight, hard-shell carrying case includes all you need for a magnet fishing trip.
The premium carry case with foam inserts to hold your kit securely and safely. The kit includes a pair of cut resistant waterproof gloves, a bag for collecting findings and ferrous debris, a strong dual braid fishing rope with carabiner fixing, thread locking glue and finally one of our high-power neodymium magnets.

Beverage Buddy
We all know dad's like to kick back and relax sometimes so why not get your dad their newest drinking partner, the Beverage Buddy.
Your dad can impress his friends and the rest of your family as he can store 6 of his favourite bottled beverages with super strong neodymium magnets.
The bottle holder can be applied to fridge roofs, shelves, and cupboards by revealing the self-adhesive strips and applying it to a dry clean surface. After a 12-hour cure time you can store your items proudly, while freeing up space below for other essentials.
Magnetic Bottle Opener
Our Push and Pop Magnetic bottle opener is the perfect gadget to go alongside our Beverage Buddy.
The push and pop magnetic bottle opener easily remove caps from any bottle by simply placing the bottle opener on top of the bottle and pushing down and the cap will be removed and secured allowing for easy disposal.
The easy mechanism provides a useful aid to anyone who has difficulty using standard bottle openers.
.

Mountable Magnetic Shelf
Our magnetically mountable steel shelves are the perfect gift for any father who loves spending time in their shed or garage doing some sort of DIY or project.
The heavy-duty steel provides a secure hold of tools and metals items, while also providing easy access. The shelf is an ideal accessory as additional storage on ferrous surfaces such as steel toolboxes or chests.
So, if your father is great with their hands but could use some help with their organisation skills then the magnetically mountable steel shelf would be the ideal Father's Day present.

Magnetic Knife Rack
Whether your dad is a whizz in the kitchen or more comfortable at a work bench our magnetic knife rack could still be the perfect gift this Father's Day.
With many versatile uses outside of the kitchen this magnetic rack could be used to hold up several different items.
The knife rack can be used it its traditional purpose to display and organise kitchen knifes or can be installed in garages or sheds and in order to hold spanners, screwdrivers and even hammers.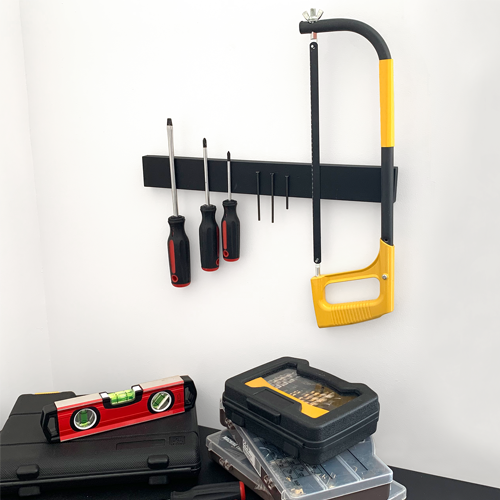 Magnet Expert Magnetic Wristband
Save 30% on our Magnet Expert Magnetic Wristband this Father's Day.
The one size fits all lightweight design that provides you with an extra pair of hands by holding a variety of objects such as nails, screws, and even handheld tools.
Our wristband can be worn throughout your working day and really is the perfect accessory for any DIY enthusiast or tradesman who could use an extra pair of hands and is available in a variety of colours.

Magnetic Torch
Misplaced or dropped screws , nails, nuts and bolts are a common occurrence with construction, warehouse and factory environments. When these are dropped or misplaced in hard-to-reach places, they can often be difficult to retrieve.
Our range of magnetic torches are available in 4 different colours and come with an extendable, flexible LED light and they are the perfect retrieval tool and solution for almost any hard-to-reach place.
The torches are lightweight and easily portable with a durable clip and can extend up to 22". What's more, the small neodymium magnet can lift up to 2.26kg and the powerful LED light can illuminate the darkest area.
This torch is not only a must have in every toolbox but you can get 30% off right now in an exclusive Father's Day deal.
We hope that you've been able to find the perfect gift for your dad this fathers day, however if your still struggling then be sure to check out our full range of suggestions here.