What's in our Magnetic Fishing Kit?
/
June 14th, 2021
/
There are currently 0 comments
Magnet Fishing has seen a huge rise in popularity in recent years and has become incredibly popular on TikTok and YouTube, however if your unsure how to get started or what equipment you may need, don't worry we have the answers for you.
We've produced a Magnetic Fishing Kit which is perfect for beginners who are looking to start magnet fishing or for anyone looking to upgrade their current kit. The durable watertight, hard-shell carrying case includes everything you need for your next fishing trip.
So what exactly is included in a kit:
Carry Case
The MAGNET EXPERT® premium and durable carry case makes it easy to transport your kit and has foam inserts to hold each accessory securely and safely as you travel.
Fishing Magnet
Our super strong 60mm dia Neodymium fishing magnet has 120kg pull and comes with two M8 eyebolt attachments. With 120kg pull you will have more than enough strength in your magnet to pull up any ferrous materials you may find.
A top tip is to always wipe your magnet clean before you cast off.
Handling Gloves
In order to keep safe while fishing we recommend wearing our cut resistant and waterproof gloves in order to protect your hands when handling your findings.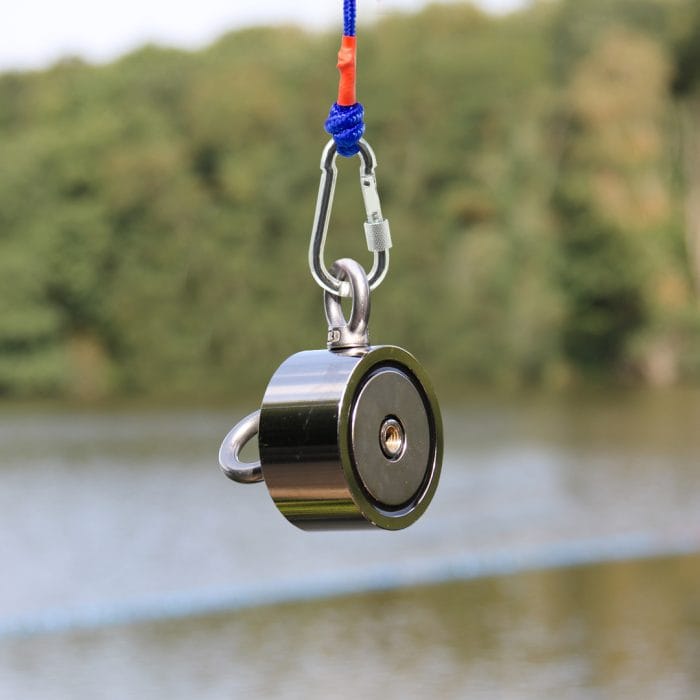 Magnet Expert Bag
Our MAGNET EXPERT® bag is perfect for collecting your findings and keeping the area clean, magnet fishing greatly benefits the waterways so it's important to take all your findings away with you.
Fishing Rope
The second most essential item behind the magnet is the rope. The 6mm wide x 20m long dual braid rope is fitted with a secure carabiner fixing and allows you to cast off further and ensure no potential catch is out of reach.
Thread-Locking Glue
Our thread-locking glue is great for providing extra hold for your eyebolt when they are put under stress or vibrations from being handled to help you avoid losing your findings.
.
If you have any questions or queries about or Magnetic Fishing Kit or the whole hobby of magnet fishing then be sure to check out our Ultimate Guide to Magnet Fishing here. Alternatively, if you have any questions or queries, please feel free to contact our experts on 0845 519 4701 or email sales@magnetexpert.com