Scrap the knife blocks: The best magnetic solution for your knives!
/
February 12th, 2021
/
There are currently 0 comments

Magnetic knife racks provide a perfect solution to store knives, kitchen utensils and more, safely and hygienically. It is also a great way to showcase your best knives for when you want to show off! With our new range of magnetic knife racks, you will be able to find one that is perfect for your kitchen. Want to discover more about the benefits of installing a magnetic knife rack in your kitchen? Read below! Using a magnetic knife rack has many key advantages. Read on below to explore how they are the must have kitchen accessory!: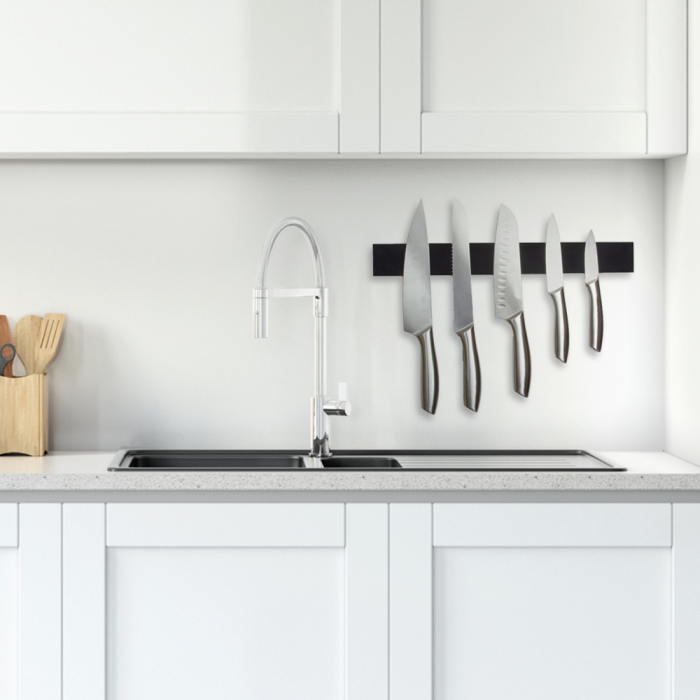 The knives retain their sharpness longer
When using a brand-new knife, you can easily cut through anything – meat, vegetables, fruit! However, when using traditional knife blocks or storing these within cupboard drawers, it speeds up the blunting process of your knives due to contact with other knives and utensils. With a magnetic knife rack however, the sharpness is retained for a prolonged period; as long as the edge doesn't come in contact with other knives you won't need to worry about sharpening your knives for a long time!
Improved Kitchen Safety
Rummaging through a knife draw that contains multiple knives can be dangerous. With a knife rack it not only keeps your knives sharp, but it also keeps your fingers safe! Our knife racks are designed with strong magnets, allowing for multiple knives to be placed and held safely.

Never grab the wrong knife again
Our premium magnetic knife racks will allow you to display your kitchen knives and utensils in all their glory, not tucked away in your cupboard or in your knife block on your countertops – they deserve better than this! As they are organised and displayed in a clean and easily accessible way, you will never grab the wrong knife again! We are sure this is something that has happened to us all.
More room in your drawers and your countertops
Magnetic knife racks are a superb solution if you have a small kitchen space, or if you have a cluttered countertop with your coffee maker, toaster and kettle to name a few. Our new knife racks are available in a wide range of sizes and finishes, so there is a size and style to fit all kitchens – helping you save space and keep organised.
About our knife racks
Convinced on how magnetic knife racks can offer style and organisation to any kitchen space? Why not shop the range below!
Our new range of magnetic knife racks come in different shapes and sizes to fit any style and size kitchen. With a range of sleek finishes and styles, they are a great addition to any kitchen this new year. In addition, their use doesn't just stop in the kitchen, there are many other ways that you could utilise our new product around your home or even workplace. To find out more on what other ways you can use our magnetic knife racks, click here!
Shop our new range of magnetic knife racks below