Top 10 Magnetic Gifts to give this Christmas
/
December 8th, 2021
/
There are currently 0 comments
It's the most wonderful time of the year… unless you're struggling to find the perfect gift to give this Christmas! But fear not, we are here to help with our top 10 magnetic gifts!
Whether you're looking for the perfect gift for your mum, dad, partner, friend or colleague this Christmas, we have you covered.
Browse our fantastic range of Christmas gifts and stocking fillers, with the ideal gift for everyone this festive season. Find the perfect magnetic gift today!
Magnetic Knife Rack
Make your kitchen magnetic with one of our magnetic knife racks, a sleek, hygienic space saving solution ideal for storing your knives and utensils. The super strong Neodymium and ferrite magnets provide a strong hold to safely hold your kitchen knives and utensils in a convenient and stylish way.
A magnetic knife rack is a perfect gift for the budding chef in your life bringing organisation and style to any kitchen! However, you can take the knife rack out of the kitchen and use it in a variety of ways from holding jewellery to holding tools for DIY or crafting, a magnetic knife rack can be a great gift for anyone this Christmas.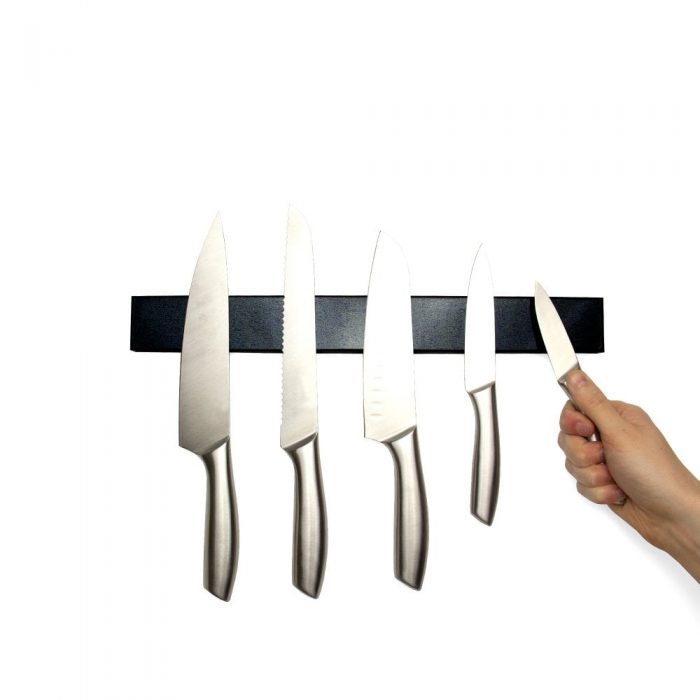 Push and Pop Magnetic Bottle Opener
Our Push and Pop Magnetic Bottle Opener is a great addition to any home and is a perfect stocking filler for anyone you know who enjoys a well-deserved drink from time to time.
Opening bottles has never been so easy thanks to the push and pop mechanism making it easier and quicker to enjoy a cold beverage.
The unique design allows for practical use but is also a great aid for anyone who may struggle to use traditional bottle openers and it even keeps the caps in mint condition for any crafters or bottle cap collectors!
Magnet Fishing Kit
The Magnet Expert Magnet Fishing Kit is an ideal gift for anyone who loves the outdoors this Christmas!
Magnet fishing is continuously growing in popularity and our kit is perfect for beginners who are looking to start magnet fishing or upgrade their current kit. The durable watertight, hard-shell carrying case includes everything needed for the perfect magnet fishing trip.
The kit includes a pair of cut-resistant waterproof gloves, a bag for collecting findings and ferrous debris, a strong dual braid fishing rope with carabiner fixing, thread locking glue and finally one of our high-power neodymium magnets. All stored in a premium carry case with foam inserts to hold your kit securely and safely.
Whiteboard Paint
Turn any space into an interactive surface!
A quirky gift idea that's suitable for any type of environment whether it is for important business meetings in the office, or you're entertaining your children with a writeable surface in their bedrooms. Our new whiteboard paint is perfect for any environment!
Paint onto any smooth flat surface such as glass, ceramic tiles, wood and many more to create a smooth writeable surface, our whiteboard paint is available in six different colours and 3sqm and 6sqm options.
Rare Earth Magnetic Bracelets
Magnetic Therapy Bracelets are a great gift for anyone suffering from arthritis or similar pains!
Static magnetic field therapy uses magnets on the body to help boost your overall health, by helping treat certain conditions such as arthritis, headaches, and more. Magnetic bracelets help improve circulation and blood flow, increase oxygen pick up, provide more energy, and are known to help ease pain including back pain, headaches, and injury pain.
Made with the world's strongest magnetic material our beautifully presented magnetic bracelets come in a vast range of colours, styles, and designs allowing you to find the bracelet you desire.
Each magnet is delivered in a gift box ready to go straight under the tree.
Bug Off Magnetic Fly Screen
The sun is almost non-existent at this time of year but we're all excited for its return next summer however we all dread those pesky bugs and flies that come with it.
Make them Bug Off with our Magnetic Fly Screen!
The ideal gift for any sunbather in your life, the Bug Off fly screen allows you to enjoy the nice weather in the comfort of your own home without any little unwanted guests. Easy to install to any desired door using either velcro strips or pins the fly screen is perfect to use on exterior front and back doors, internal doors, caravans and campervans and patio & French doors.
Magnet Expert Magnetic Wristband
A great gift idea for your dad, your boyfriend or any DIY fanatic in your life is the Magnet Expert Magnetic Wristband!
What could be better than giving them an extra pair of hands? Our one size fits all magnetic wristband will attract nails, screws, and small handheld tools and conveniently hold them while working.
The lightweight design allows the wristband to be worn throughout the working day making it a must-have for any toolbox! Available in four different colours you can find the perfect gift for the handy person in your life.
MagnoGrip Gloves
Another fantastic gift idea for any DIY enthusiast or tradesmen is a pair of MagnoGrip Gloves!
Ideal for storing nails, screws, nuts and bolts, and more to the back of your hand as your work MagnoGrip gloves make any working day that little bit easier.
The maximum feel fingertip allows the user to pick up small items without having to remove the glove and also use touchscreen devices while wearing the glove. An elastic cuff provides a snug fit with easy on/off flexibility alongside the reinforced palm which provides a non-slip grip surface.
Professor Gauss™ Educational Magnetic Chalkboard Kit
Looking for a great gift for the little boy or girl in your life?
Why not engage their imagination, create exciting opportunities and endless fun with Professor Gauss's new education chalkboard kits!
The scratch-resistant surface provides a durable, long-lasting drawing surface for extended learning of younger children and can be easily stuck to any clean, flat surface.
Available in three shapes happy hippo, big bear or our silly school bus find the perfect gift this Christmas for any child.
Professor Gauss™ Magnetic Putty
Make Christmas wonderfully wacky this year with Professor Gauss's magnetic putty! An ideal stocking filler magnetic putty takes fun to a whole new level.
Stretch it, shape it and feed it! Watch in amazement as the magnetic putty comes alive and reacts in mysterious ways as it crawls towards the skittle magnet and even swallows the magnet if you let it!
Still looking for the perfect gift to give this Christmas then take a look at our entire range of magnetic gifts.
Still, looking for that perfect gift to give this Christmas? Well, give a gift to remember and shop our range of discounted gift packs below!