Give the Gift of Custom Printed Magnets This Christmas
/
December 10th, 2021
/
There are currently 0 comments
Finding the perfect gift to give at Christmas can be difficult, we all know someone who's impossible to buy for, but no longer do you have to struggle thanks to our range of printable magnets. Create the perfect gift for anyone with our fully customisable printable magnets.
Print your favourite memories to share with those closest to you, create novelty fridge magnets for your friends or even replace traditional Christmas cards with custom Christmas fridge magnets!
You can view our entire range of printable magnets here.
Replace Traditional Christmas Cards
Give Christmas traditions a shakeup and replace traditional Christmas cards with custom printed magnets, add any design, text or image to our range of printable magnets and give a memorable Christmas memento to your friends and family.
Create wonderful Christmas magnets with any design, be it a family photo or a witty message. Make a custom Christmas fridge magnet that can be proudly displayed around any home or office at the most wonderful time of the year.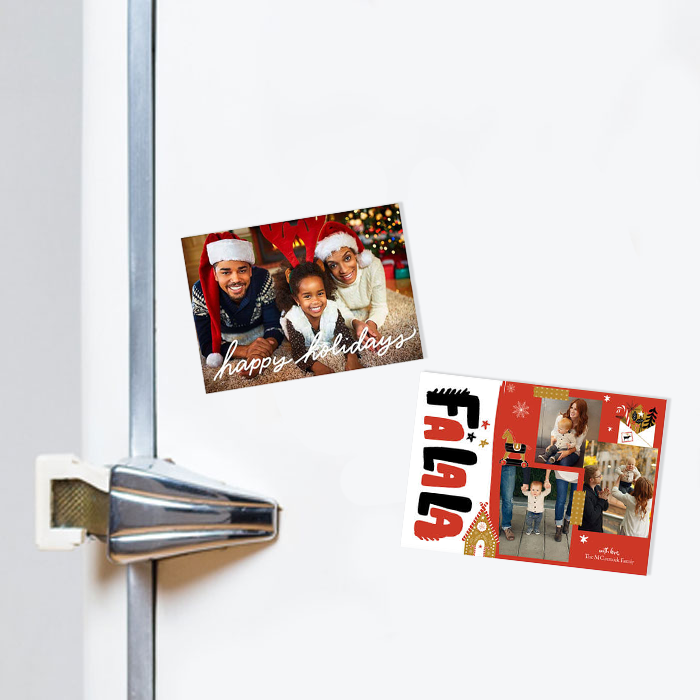 Printed Christmas Office Magnets
Our printed noticeboard magnets will make any office festive this Christmas!
Our pack of 6 printed noticeboard magnets include an array of designs including a snowflake, a Christmas tree, a bauble, a reindeer, a snowman and one Santa Claus.
A great stocking filler gift, these magnets can be used for hanging Christmas cards or even holding up your stocking, add a festive cheer to your office this Christmas.
Custom Printed Fridge Magnets
Create and send the perfect sentimental gift this Christmas, a personalised photo fridge magnet for a loved one to treasure forever.
Freezing your favourite moments in time has never been easier thanks to our personalised photo magnets.
Whether you're looking to cover your own fridge with special memories or create a unique gift for your friends and family, it's all possible with our custom magnet printing surface to capture and display all those great occasions.
No matter how big the moment we offer the perfect size fridge magnet to showcase your memories. So, remember your finest moments fondly with large, small, and even multi-photo designs.