Make Learning Fun With These 5 Magnets
Magnetics is a part of all children's education and Alnico magnets are extremely popular in schools due to their easy handling and much safer risk compared to Neodymium magnets.
However, outside of the classroom magnets can also be a key part in some children's toys here at FIRST4MAGNETS we have a range of toys and accessories that are perfectly suitable for children and that is thanks to their magnetic properties.
So, we have decided to put a list together of our top child friendly products below.
Tangram Magnets
The highly addictive tangram-style puzzle based on the ancient Chinese puzzle are suitable for children ages 3+ and are available in four different colours including red, green, blue, and yellow.
These challenging and addictive puzzles provide a stern test of maths and logic. Each puzzle is made from premium foam with a flexible magnetic backing providing a secure grip to a steel surface such as a fridge.
Each piece is die cut and supplied as a square so the individual pieces can easily be broken apart to crate new shapes. The real question is how many shapes can you make?

Fun with Magnets
We offer two different ranges of Fun with Magnets both suitable for ages 3 and above firstly we have the multi-coloured foam letters and punctuation marks which are ideal for teaching alphabet recognition and making connections between letters and sounds.
These lightweight foam letters on a magnetic backing are available in two colour sets; black or red and blue which has two colours to separate vows and consonants.
Alongside the sets of letters, you can also get a set of magnetic foam numbers which are ideal for helping build number recognition abilities and motor skills.
Each Fun with Magnets set comes packed in a reusable storage jar to reduce clutter and are suitable for children aged 3 and above.
.
Secondly, the Fun with Magnets Building Blocks means the fun never stops as with various shapes and colours there is limit to the creativity that can be shown with these sets.
These magnetic building blocks have been designed with children's education and development in mind as they can let their imagination run wild as they build a range of shapes and everyday objects. Each pack contains a range of building block shapes and colours and range from 36 to 332-piece sets.

Horseshoe Magnets
We have a large range of horseshoe magnets but our large red horseshoe magnet is ideal for kids,. Their size and shape make them extremely easy to handle and are the right strength to be safe for children to use and learn about the force of magnetism.
The large red magnet is coated in plastic making them tough and durable making them a great educational tool for children. Suitable for children aged 3+.
Our range of horseshoe magnets combine perfectly with fine iron powder as a great way to learn and show patterns of magnetic fields. This can be done by simply placing some of the iron fillings onto a piece of paper and moving the magnet underneath to see how the powder reacts and aligns to the magnetic fields.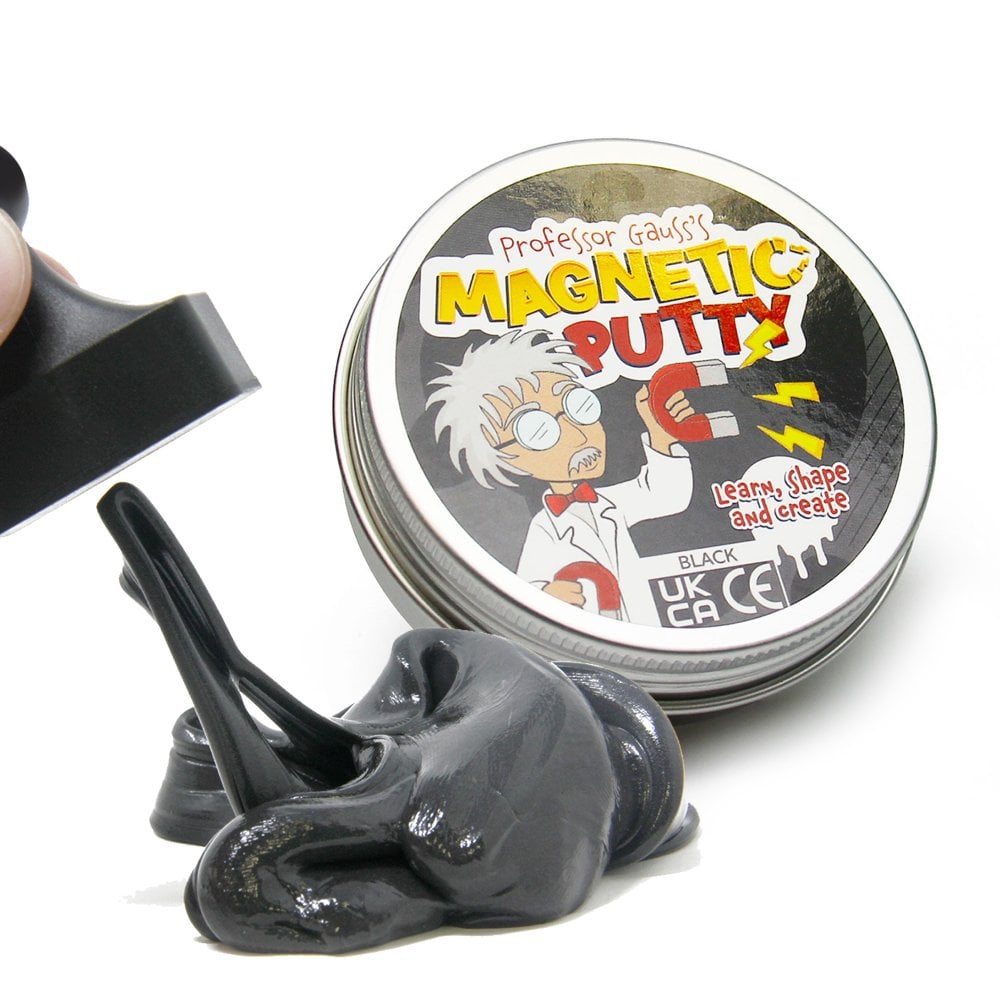 Magnetic Putty
Our exclusive Professor Gauss's wonderfully wacky magnetic putty is a great gift for kids aged fourteen and over. It can be shaped, stretched, bounced, and fed magnets. Watch in amazement as the magnetic putty comes alive and reacts in mysterious ways as it crawls towards a skittle magnet.
The set includes a 50g tub of Professor Gauss's magnetic putty and a 32mm x 38mm plastic coated skittle magnet and is available in a range of colours including black, brown, blue, green, gold, grey, pink, and purple goo.
If you are looking for more information on how kids can learn through the fun of magnets, check out our fun and educational articles here! Alternatively, if you have any questions or queries, please feel free to contact our experts on 0845 519 4701 or email sales@magnetexpert.com