Expert magnet of the month- Neodymium Swivel hook Magnet
/
August 13th, 2020
/
There are currently 0 comments

These strong Neodymium pot magnets with rubber base and swivel hook are ideal for holding various items in any desired direction. The swivel feature brings simple versatility, allowing you to hang many items in any desired position, thanks to their 180 swivel and 360 rotation. Therefore, our experts have chosen it as this month's magnet of the month! If you are a keen camper, caravanner, fisher or need a storage solution for your work van, this magnet is the one for you!
Product Specification
Neodymium Pot Magnet with Rubber Base and Swivel Hook
40mm diameter.
Swivel hook provides versatility for holding many items.
Each magnet can support a weight of up to 60kg vertically and 30kg in a shear position.
Rubber base increases friction and prevents marking other contact surfaces.
Plating: Ni-Cu-Ni (Nickel)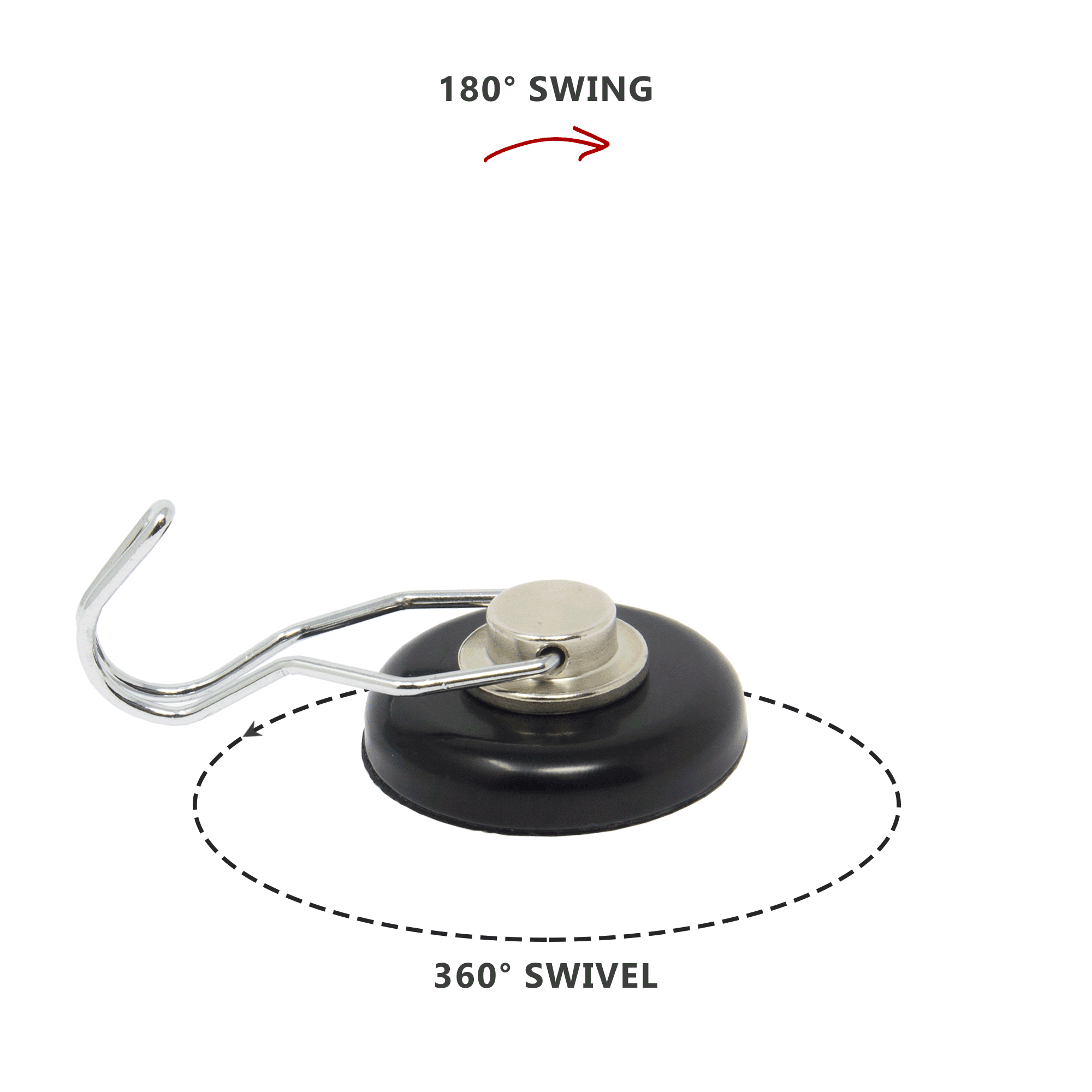 Common Applications
Our Neodymium swivel hook magnet provides a durable holding solution for all types of applications, whether it is hanging tools in workshops, for point of sale signage, or for use in removable access panels. These magnets have a rubber base that increases friction, whilst preventing the magnet from marking the surface it is attracted to.

Expert tip: If you need to remove the magnet from the surface it's attracted to, simply slide the magnet away. It is considerably harder to pull a magnet off of a surface.
Your next camping tool!
The magnet is in cased in plastic and rubber making it a great for outdoor/camping applications, as the casing protects the magnet from corrosion! Campervans tend to be made from a ferrous material, which magnets attract to. Simply place them around your campervan to securely hang a variety of items!

For more expert tips watch this video: