Our Experts' Favourite Magnets: Simon Elliott
/
August 7th, 2017
/
There are currently 0 comments
Last week we launched the first blog post in the series of Our Experts' Favourite Magnets. Our team are taking the time to reveal their favourites and the reasons why they rate them so highly. We started off with Juan Suarez-Robinson, our fresh-faced Customer Sales Adviser whose favourite magnet is the Feel Flux gadget! Take a read.
This week, our Head of Sales and Marketing, Simon Elliott, will be chatting to us and revealing his favourite magnet! But first, a bit about the man himself. Simon is a charismatic leader with natural motivational qualities. When he is not singing along to Smooth FM in the office he's singing about his beloved Derby County FC. A man of the world who now brings his skills and expertise to the magnet industry.
But down to business.
We started off by asking about his favourite magnet and he revealed to us his admiration for the 25mm Neodymium Clamping Magnet with an M5 Hook/Eyebolt and 20kg pull. This is a very popular magnet because it can be used in what can only be described as the UK's latest craze, magnetic fishing. Excellent choice, Simon!
Here is the magnet itself. Which of the two fixings below do you prefer, the hook or eyebolt?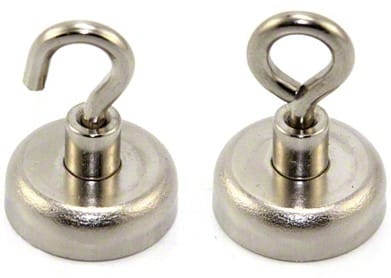 When asked for the reasons behind his choice and what it can be used for, Simon replied:
"This magnet is tough with a super-strong 20KG pull at only 25mm wide, which makes it absolutely ideal for countless applications including magnetic fishing, hanging displays, running cables in the garden and generally tidying up around your home & office. I think it is great to have around the office as it can be used to keep hazards out of the way including bags, coats and keys."
Below, 2 of our customers have sent in magnetic life hacks using magnets similar to Simon's choice. See how to replicate these with our Magnetic Hooks for Hanging Mugs and Magnetic Hooks for your BBQ articles.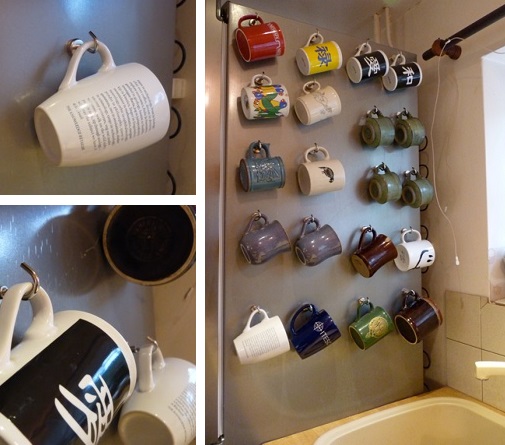 So, how much does this magnet cost and what varieties are available?
"From just £5.38 you can have the clamping magnet on its own, or order it along with the eye or hook attachment to extend the range of applications this magnet can be used for. Bulk prices are available and the more you buy, the less you pay per magnet." That's an 'attractive' bargain (pun fully intended) some might say. When the offer is that good, you simply must stock up…
This magnet, with either of its attachments, can be purchased at First4Magnets.com. If you have any questions for Simon about his favourite magnet then drop us an email on sales@first4magnets.com or give us a call on 0845 519 4701 and quote Simon's favourite magnet.
A big thanks to Simon for taking the time to tell us about his favourite magnet! Tune in next week for Eric Styles' edition!
In the meantime, let's get social…