How To Get Started Magnet Fishing
There are many types of traditional fishing such as bait fishing, fly-fishing and baitcasting but a new type of fishing has been taken by lakes and rivers by storm… magnet fishing! Where instead of catching exotic fish, you can literally haul up trophies.
We know you may have questions like how do you fish with magnets? Why is it so popular? And what are people finding? Well, we'll answer all these questions and more below, be warned you may be drawn to it yourself!
What is magnet fishing?
Magnet fishing is exactly what it sounds like, fishing with a magnet.
Securely tie a strong magnet onto a piece of sturdy rope and simply throw it into the water and if you're lucky, it will stick to something that you can pull out and take home.
So, what is the appeal? Well, as well as the enticing chance of finding some sunken treasures there are the environmental benefits of helping clean up your local river or lake as well as being able to enjoy the thrill of fishing without hurting any fish.
What Can I Catch?
Really the possibilities of things you could catch while magnet fishing is endless.
Anything and everything which contains iron can be caught, from nuts and bolts to tools, bicycles, knives and even a fishing classic, an old boot.
One of the more exciting finds in which people pull up are old safes, whilst often empty sometimes they may just contain real life treasure.
In Europe, many magnet fishers have been lucky enough to find older weaponry, usually dating back to WWII, however it is important to contact the local police if any guns, weapons or safes are found.
Magnet Fishing Gear
If you're already thinking of finding that hidden treasure, then you're in luck as you can get started right away with our Magnet Fishing Kit.
Perfect for beginners! Our Magnet Fishing Kit includes everything you'll need to become a Magnet Fishing expert. The durable watertight, hard-shell carrying case includes everything you need as well as securely and safely holding your magnet and accessories.
So, what exactly is included in a kit:
Carry Case
The MAGNET EXPERT® premium and durable carry case makes it easy to transport your kit and has foam inserts to hold each accessory securely and safely as you travel.
Fishing Magnet
Our super strong 60mm dia Neodymium fishing magnet has 120kg pull and comes with two M8 eyebolt attachments. With 120kg pull, you will have more than enough strength in your magnet to pull up any ferrous materials you may find.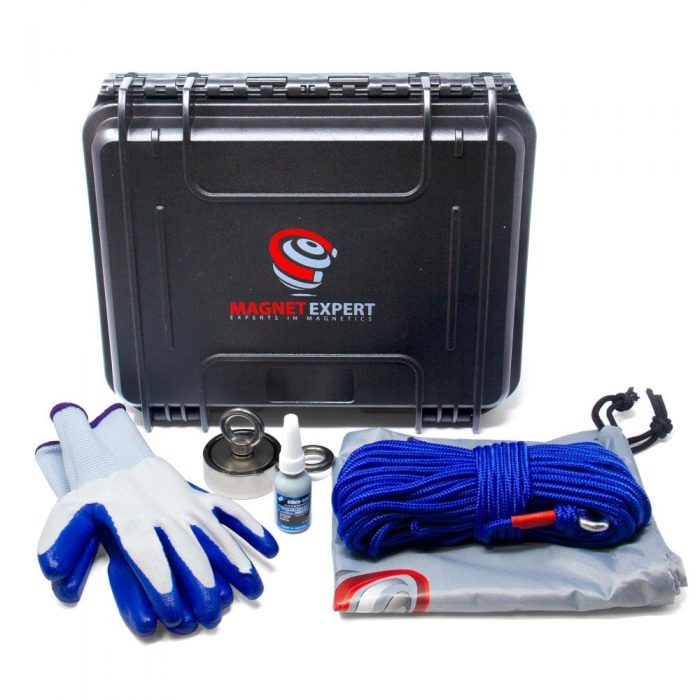 A top tip is to always wipe your magnet clean before you cast off.
Handling Gloves
In order to keep safe while fishing we recommend wearing our cut resistant and waterproof gloves in order to protect your hands when handling your findings.
Magnet Expert Bag
Our MAGNET EXPERT® bag is perfect for collecting your findings and keeping the area clean, magnet fishing greatly benefits the waterways so it's important to take all your findings away with you.
Fishing Rope
The second most essential item behind the magnet is the rope. The 6mm wide x 20m long dual braid rope is fitted with a secure carabiner fixing and allows you to cast off further and ensure no potential catch is out of reach.
Thread-Locking Glue
Our thread-locking glue is great for providing extra hold for your eyebolt when they are put under stress or vibrations from being handled to help you avoid losing your findings.